How to completely reset your WordPress website
How to completely reset your WordPress website
If you have WordPress on a local server or online for testing purposes, you probably found yourself thinking of a way to reinitialize your WordPress database back to its default settings. A lot of folks simply reinstall WordPress, but there is an easier solution.Resetting your website can be useful if you are testing new plugins and themes, or just want to "have a play" and return your site to how it was when you first installed it.
NOTE: THIS CAN'T BE UNDONE.
How To Reset Your WordPress Database
The easiest way we've found to quickly reset your database is with the free WordPress Database Reset plugin. Since your database contains all of your website's information and customizations, this means your site will completely wiped of all its content and you will be left with a fresh install, just as if you had installed WordPress for the first time. This plugin cleans out the blog posts, store products, portfolio items or anything else you might have added to your WordPress installation along with all of the accompanying media files, comments, taxonomies, ratings, etc. It does not delete your installed themes and plugins (so no worries).
Now that you know what the WordPress Database Reset plugin does , to get started, download, install and activate the plugin. It will add a new menu item to the admin sidebar, Tools > Database Reset.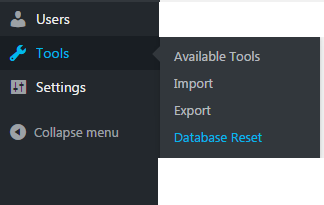 You can use the Select Tables dropdown to choose individual data tables. Or if you want to reset everything (like we typically do) click on the Select All option.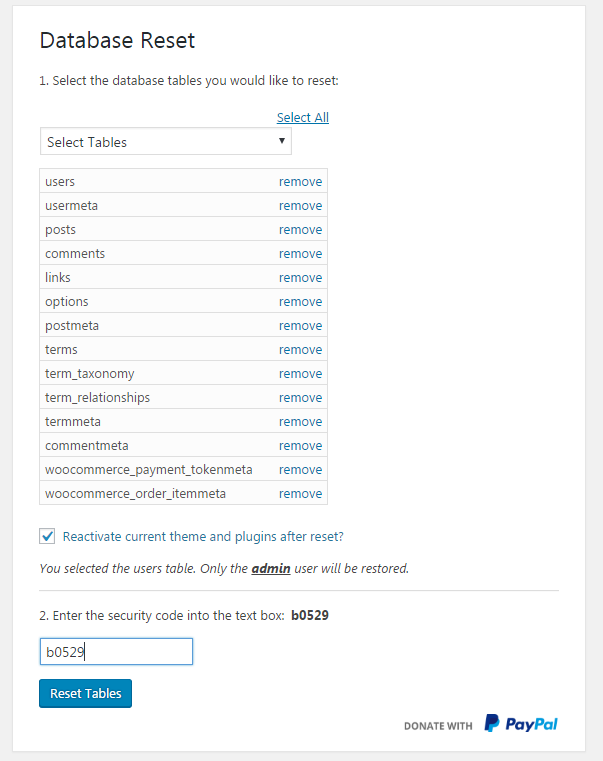 Note: If you select the users table your user account will be reset. This means you will have to reset your password and log back into your WordPress installation after using the reset plugin. To avoid this, remove the users option after using the select all quick link.
After selecting the tables you want to reset you have the option to reactivate your current theme and plugins. This step is completely up to your preference. When we're doing theme testing we always check this box to speed things up. For plugin reviews we don't check this box, which means the theme and plugins are all deactivated (but not deleted) on the installation.
Once you've made your selections, type in the temporary security code, click the button to Reset Tables and then confirm the reset.
If you click on Posts you'll see that your website has gone back to the original WordPress "Hello World!" default post, complete with sample comment. And if you check under Pages default WordPress "Sample Page" should be back too.
Related Articles